As parents, we like for bedtime to be easier and more enjoyable. It would be nice to eat dinner, a warm bath, and relax reading a book or watching your favorite show for an hour before bed. Sometimes it's hard when a child doesn't want to go to bed and they want to stay up for hours playing. Sometimes it gets difficult when a child throws a fit and cries until they get tired and fall asleep. Here Are 5 Ways to Make Child's Bedtime Fun.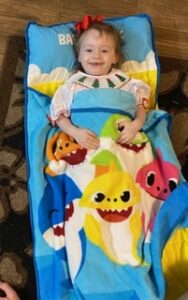 Let your child help make their snack for dinner
This is one way to make a child's bedtime fun is to let them help make their favorite snack. We don't realize this but this is so much fun for a kid. They will get excited and it will put a smile on their faces. It might be their delicious cookie, cupcake, drink, peanut butter & jelly sandwich or mac and cheese. Not only will they enjoy helping you with the snack but they will enjoy eating it as well.
Make a child's bath time fun
Sometimes a child gets lazy and it's hard to get them in the bathtub. They would rather keep playing instead of taking a bath. Put some of their fun bath toys in the bathtub with them. This way their bath time is more enjoyable.
(click here)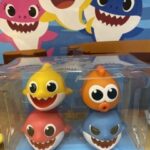 Some great bath toys are Pinkfong Shark Family Light Melody Bath Toys for Kids, Baby Shark Sing & Swim Bath Toys, Robo Alive Junior Baby Shark Battery Powered Sing and Swim Bath Toy, Pinkfong Baby Shark Bath Squirts and Pinkfong Baby Shark Bath Stickers bath toys. Buy them a kid's towel that has their favorite character on it. Kids always love to wrap their characters around them. It makes them feel special. This way their bath time is more enjoyable. Maybe tomorrow night will be a little easier.
Turn your child's best cartoon on
Kids love to watch cartoons. This will entertain them for hours but set a limit to how long they can watch cartoons before bed. There are a lot of good cartoons and some parents still watch these with their kids: Sponge Bob, Arthur, Peppy Pig, We Bare Bears, Dora the Explorer, Cyberchase, To Boy- Mr. Clean, Zool Babies Series, Scooby-Doo, The Powerpuff Girls, The Jetsons, Duck Tales, and The Flintstones. If they love to listen to music, Pinkfong educational songs on YouTube are always a good choice.
Read a great child's book
This is something as a parent we need to take time for our kids and read to them every night.  Some Families worked full-time jobs and are tired when they get home.  If you would take ten minutes of your evening right before your child goes to bed and read them a happy storytime, that will comfort them with a smile and make them have sweet dreams.  For more information about bedtime stories visit Wikipedia.
Pinkfong has a lot of great storytime books to choose from Pinkfong Children's Cradle Song (Lullaby) Songbook, Pinkfong Animal Song Sound Book, Pinkfong Baby Shark Sound Book, Baby Shark Doo Doo, Baby Shark Cloth Book Soft Baby Activity Books, Pinkfong Children's Dinosaur Songs Sound Book, and Pinkfong Children's Mother Goose Sound Book.
Put On Your Child's Favorite Pajamas
What a great way to jump in bed wearing your favorite pajamas. Not only are pajamas comfortable but wearing your favorite character makes your little one look forward to getting ready for bed. Your little girl will look adorable in the Baby Princess Pajamas Shark Cartoon Print Nightgown dress and you little boy in a comfortable baby shark tee shirt. The child's bedding will add a special loving touch to the room.
If you can stay with the same routine every night, it will make bedtime more fun, easier, and enjoyable. Always set a time for bed and a time to get up in the mornings. Soon your child will get used to their schedule and not dread or cry before bedtime. Adding a few fun things for a child before bedtime makes it fun.
Click here to check out Amazon products.